General info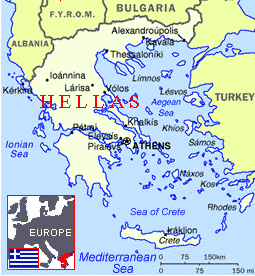 Location:
Southern Europe, bordering the Aegean Sea, Ionian Sea, and the Mediterranean Sea, between Albania and Turkey. Strategic location dominating the Aegean Sea, a peninsular country, possessing an archipelago of about 2,000 islands
Geographic coordinates:
39 00 N, 22 00 E
Area: total:
131,940 sq km
border countries:
Albania 282 km, Bulgaria 494 km, Turkey 206 km, FYROM 246 km
Coastline:
13,676 km
Climate:
temperate; mild, wet winters; hot, dry summers
Terrain:
mostly mountains with ranges extending into the sea as peninsulas or chains of islands
Elevation extremes:
lowest point: Mediterranean Sea 0 m
highest point: Mount Olympus 2,917 m
Natural resources:
lignite, petroleum, iron ore, bauxite, lead, zinc, nickel, magnesite, marble, salt, hydropower potential
Land use:
arable land: 20.45%
permanent crops: 8.59%
other: 70.96% (2005)
Population:
10,688,058 (July 2006 est.)
Age structure:
0-14 years: 14.3% (male 790,291/female 742,902)
15-64 years: 66.7% (male 3,562,251/female 3,566,097)
65 years and over: 19% (male 891,620/female 1,134,897) (2006 est.)
Median age:
total: 40.8 years
male: 39.7 years
female: 42 years (2006 est.)
Population growth rate:
0.18% (2006 est.)
Birth rate:
9.68 births/1,000 population (2006 est.)
Death rate:
10.24 deaths/1,000 population (2006 est.)
Net migration rate:
2.34 migrant(s)/1,000 population (2006 est.)
Infant mortality rate:
5.43 deaths/1,000 live births
Life expectancy at birth:
total population: 79.24 years
male: 76.72 years
female: 81.91 years (2006 est.)
Total fertility rate:
1.34 children born/woman (2006 est.)
Religions:
Greek Orthodox 98%, Muslim 1.3%, other 0.7%
Languages:
Greek 99% (official), English, French
Literacy:
97.5%
Country name:
conventional long form: Hellenic Republic
conventional short form: Greece
local long form: Elliniki Dhimokratia
local short form: Ellas or Ellada
Government type:
parliamentary republic; monarchy rejected by referendum 8 December 1974
Capital:
Athens
Administrative divisions:
51 prefectures and 1 autonomous region*; Achaia, Agion Oros* (Mt. Athos), Aitolia kai Akarmania, Argolis, Arkadia, Arta, Attiki, Chalkidiki, Chanion, Chios, Dodekanisos, Drama, Evros, Evrytania, Evvoia, Florina, Fokidos, Fthiotis, Grevena, Ileia, Imathia, Ioannina, Irakleion, Karditsa, Kastoria, Kavala, Kefallinia, Kerkyra, Kilkis, Korinthia, Kozani, Kyklades, Lakonia, Larisa, Lasithi, Lefkas, Lesvos, Magnisia, Messinia, Pella, Pieria, Preveza, Rethynnis, Rodopi, Samos, Serrai, Thesprotia, Thessaloniki, Trikala, Voiotia, Xanthi, Zakynthos
Independence:
1830 (from the Ottoman Empire)
National holiday:
Independence Day, 25 March (1821)
Constitution:
11 June 1975; amended March 1986 and April 2001
Suffrage:
18 years of age; universal and compulsory
Executive branch:
chief of state: President Karolos PAPOULIAS (since 12 March 2005)
head of government: Prime Minister Konstandinos KARAMANLIS (since 7 March 2004)
Legislative branch:
unicameral Parliament (300 seats; members are elected by direct popular vote to serve four-year terms)
elections: elections last held 7 March 2004 (next to be held by March 2008)
election results: KKE 5.9%, percent of vote by party - ND 45.4%, PASOK 40.6%, Synaspismos 3.3%;
seats by party - KKE 12,ND 165, PASOK 117, Synaspismos 6
Judicial branch:
Supreme Judicial Court; Special Supreme Tribunal; all judges appointed for life by the president after consultation with a judicial council
Economy:
Greece has a capitalist economy with per capita GDP at least 75% of the leading euro-zone economies. Tourism provides 15% of GDP. The Greek economy grew by about 4.0% for the between 2003 and 2005. Economic growth slowed to about 3% in 2005. Greece has not met the EU's Growth and Stability Pact budget deficit criteria of 3% of GDP since 2000. Public debt, inflation, and unemployment are above the euro-zone average.
GDP (purchasing power parity):
$243.3 billion (2005 est.)
GDP (official exchange rate):
$210.7 billion (2005 est.)
GDP - real growth rate:
3.3% (2005 est.)
GDP - per capita (PPP):
$22,800 (2005 est.)
GDP - composition by sector:
agriculture: 6.2% Accumulation remains low in comparison to the average of the "EU of 15". Productivity is equal to that of 44.6% of the corresponding EU average. Agricultural employment is four times that of the corresponding EU average. The total volume of paid labor in the agricultural economy is equal to that of 47.3% of the average of the "EU of 15."
industry: 22.1%
services: 59% (2005 est.) the smallest share in the GDP compared to that of the EU (69.4%).
Labour force:
4.72 million (2005 est.) During 2000-2005, salary workers and self-employed businessmen with staff are the categories with a growth tendency. In addition, salaried work is the only category that presented a continuous tendency towards growth. Its contribution reached 59.9% of total employment and exceeded 2,430,000 workers. The great majority of salary workers belong to the working class which includes unemployed and immigrants.
Self-employed businessmen without staff were reduced by 27.5 thousand in 2003 that is by 2.65% in comparison to 1998, despite the fact that this annual reduction was interrupted during the two-year period 2002-2003. In the period 1998-2003 a trend of reduction in the number of employees in family enterprises by 106.6 thousands, that is 23.4%. A small increase was marked by self-employed businessmen with staff by 4.8 thousand, which is 1.6%.
The total number of employed in 2003, in comparison to 1998 showed a small increase of 105.3 thousand or 2%.
Part-time employment exceeds 11% in the private sector.
Agricultural employment between the two census counts 1991 and 1999-2000 was reduced by 14.6%.
Immigrant:
one-fifth of the work force, mainly in menial jobs. 85% of them without any "green card" and totally depirived of any right. Main countries of origin: Algania, Ukraine, Moldova, Pakistan, Bangladesh, Turkey, Poland, Romania. Bulgaria. India. Nigeria, Egypt.
Official Unemployment rate:
10.8% (2005 est.)
Population below poverty line:
22%
Household income or consumption by percentage share:
lowest 10%: 3%
highest 10%: 28.3% (1998 est.)
Distribution of family income - Gini index:
35.1 (2003)
Inflation rate (consumer prices):
3.8% (2005 est.)
Investment (gross fixed):
25.3% of GDP (2005 est.)
Budget:
revenues: $94.13 billion
expenditures: $103.4 billion; including capital expenditures of $NA (2005 est.)
Public debt:
108.9% of GDP (2005 est.)
Agriculture - products:
wheat, corn, barley, sugar beets, olives, tomatoes, wine, tobacco, potatoes; beef, dairy products
Industries:
tourism, food and tobacco processing, textiles, chemicals, metal products; mining, petroleum
Industrial production growth rate:
1.7% (2005 est.)
Current account balance:
$-14.5 billion (2005 est.)
Exports:
$18.54 billion f.o.b. (2005 est.)
Exports - commodities:
food and beverages, manufactured goods, petroleum products, chemicals, textiles
Exports - partners:
Germany 13.1%, Italy 10.3%, UK 7.5%, Bulgaria 6.3%, US 5.3%, Cyprus 4.6%, Turkey 4.5%, France 4.2% (2004)
Imports:
$48.2 billion f.o.b. (2005 est.)
Imports - commodities:
machinery, transport equipment, fuels, chemicals
Imports - partners:
Germany 13.3%, Italy 12.8%, France 6.4%, Netherlands 5.5%, Russia 5.5%, US 4.4%, UK 4.2%, South Korea 4.1% (2004)
Reserves of foreign exchange and gold:
$2.3 billion (2005 est.)
Debt - external:
$75.1 billion (2005 est.)
Economic aid - recipient:
$8 billion from EU (2000-06)
Currency (code):
euro (EUR)
Telephones - main lines in use:
6,348,800 (2004)
Telephones - mobile cellular:
9,305,700 (2004)
Internet country code:
.gr
Internet hosts:
414,724 (2005)
Internet users:
3.8 million (2005), the lowest in EU.
Merchant marine:
total: 813 ships (1000 GRT or over) 30,656,860 GRT/52,298,434 DWT
by type: bulk carrier 272, cargo 61, chemical tanker 42, combination ore/oil 1, container 44, liquefied gas 4, passenger 12, passenger/cargo 120, petroleum tanker 239, roll on/roll off 17, specialized tanker 1
foreign-owned: 21 (Belgium 11, Chile 1, Sweden 1, UK 8)
registered in other countries:
2,338
(The Bahamas 217, Barbados 11, Belgium 4, Bermuda 1, Cambodia 7, Cayman Islands 22, Comoros 8, Cyprus 352, Denmark 1, Dominica 3, Egypt 6, French Southern and Antarctic Lands 2, Georgia 5, Gibraltar 9, Honduras 3, Hong Kong 28, India 1, Isle of Man 43, Italy 6, Jamaica 5, North Korea 1, Lebanon 2, Liberia 229, Malta 515, Marshall Islands 179, Panama 536, Philippines 7, Portugal 4, Russia 1, Saint Vincent and the Grenadines 84, Sao Tome and Principe 1, Singapore 8, Slovakia 5, Syria 1, UAE 2, UK 7, US 3, Uruguay 1, Vanuatu 1, Venezuela 2, unknown 15) (2005)
Military
Military expenditures
$5.89 billion $(2004)
Military expenditures - percent of GDP:
4.3% (2003)
Greece is a NATO member starting from 1952
US and Main NATO-bases:
Souda bay [Crete]- US naval basis, Aktio, Araxos
Military service age and obligation:
18 years of age for compulsory military service; during wartime the law allows for recruitment beginning January of the year of inductee's 18th birthday, thus including 17 year olds; 17 years of age for volunteers; conscript service obligation - 12 months for the Army, Air Force; 15 months for Navy; women are eligible for military service (2005)

e-mail:cpg@int.kke.gr